"Pre-Hillary Sale" in Las Vegas Gun Store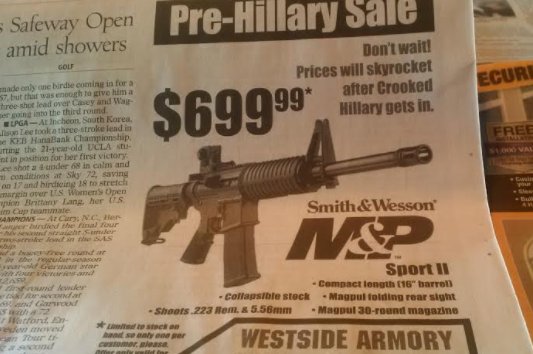 The Westside Armory, a gun shop in Las Vegas has been advertising a "Pre-Hillary Sale" this coming weekend, in response to Presidential nominee Donald Trump's words, "the Second Amendment is on the ballot in November."
"Don't wait! Prices will skyrocket after Crooked Hillary gets in," the ad from Westside Armory read, as reported by the Washington Post.
Jon Ralston, a political analyst at KTNV in Las Vegas, posted a picture of the advertisement on Twitter on Sunday afternoon. "Vegas armory ad in Adelson News," he wrote, referring to the Las Vegas Review-Journal, which conservative donor and casino magnate Sheldon Adelson bought in December of last year.
The ad features the image and specifications of a Smith & Wesson M&P Sport II, a semiautomatic rifle, priced at $699.99 for the sale. Normally priced at $749.99.
Rifles like the M&P Sport II are in the crosshairs of gun control activists who advocate for the restoration of the assault weapons ban. Even though the M&P as it is sold, does not constitute an assault rifle. Clinton advocated for reinstating the assault weapons ban after this summer's mass shooting at an Orlando nightclub. She also has argued for expanded and more thorough background checks and holding gun dealers liable for crimes committed with their products.
As the Post noted in their report, gun sales spiked after Barack Obama's 2008 election, and again when he was re-elected in 2012. Time will only tell if they will again, but if the election is making you want to buy, this upcoming sale might be a good time.